Making a Gait Analysis Video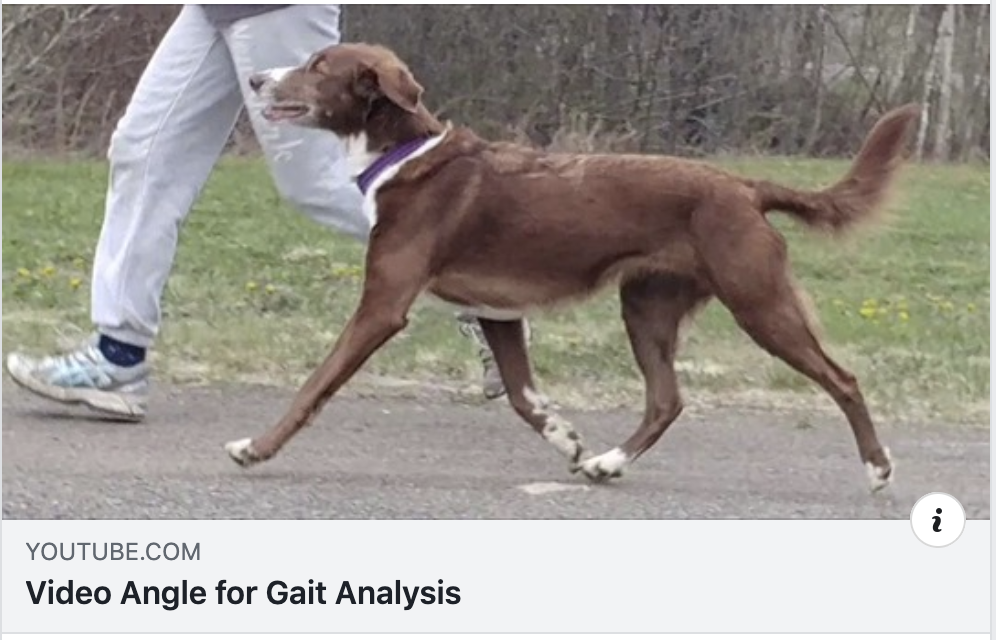 Lately a lot of people have been posting and sending me videos for gait analysis, but the videos that have been posted are REALLY hard to evaluate. I wanted to create a post that details what a decent gait analysis video looks like as well as some tips and tricks. It's a long post – my apologies – but hopefully it will result in better videos and better feedback.
1. Remove any gait altering gear, including halties and harnesses. I prefer dogs to either be on a flat collar and regular leash or, if you have a safe area, no leash.
2. Dogs need to be moving at a natural gait. No heeling, no tight leashes, no treats for attention. I often tell my clients to walk them until they are bored – don't talk to the dog, don't make eye contact, just walk back and forth until your dog is bored.
3. The land should be level and comfortable – no steep hills, no deep sand, no ice. Sometimes it's impossible to get ideal conditions, but recognize that snow, rain, wet grass etc may have an impact on gait, depending on the dog's sensitivity to the conditions and how bad the conditions actually are. If there are conditions that may be impacting your dog's gait, tell us in the original post.
4. Try to keep the videos short – under 2 minutes. A basic gait analysis video includes:
a) Walk (side)
b) Trot (side)
c) Extended Trot (side)
d) Trot (front and rear)
When I'm suspicious that there's an issue, other movements I may videotape include:
e) Walk, Trot, Extended Trot (front and rear)
f) Gallop (usually on a recall)
g) Lead changes
h) Gait changes
i) Circles to the left/right
j) Kibble toss (sometimes rear assembly lameness shows up when a dog's head is down, so I literally just toss kibble and record.
5. Document at both regular speed and slow mo.
6. Make sure you are on the same level as the dog and your camera/phone is aligned with the dog's lower torso. Zoom in on the dog. I've attached a small section of a client's gait analysis video (with the client's knowledge and consent) for the purposes of seeing what angle the videoing should be done at. For very small dogs, I've been known to lay on my stomach to get the proper angle.
I know this seems like a lot, but usually it takes me 2-5 minutes to get the video I need, and another 5 minutes of editing – and it will provide much better feedback than some of the videos currently being posted.
7. There is a saying, "When a dog is lame somewhere, he is lame everywhere." This is SO true, and it's one of the reasons that when someone posts a gait analysis video, people will identify different limbs as being lame. Instead of having people randomly guess which limb and which joint is the issue (because trust me, with the exception of the professionals in the group, most responses are very random), you are better off asking people to identify what they see in terms of irregularities or inconsistencies and bringing that information to a CCRP (or your regular vet if a CCRP isn't available).
8. Lastly, when doing gait analysis I've learned that the more I know, the more I don't know. Limit your expectations – gait analysis can provide some clues, but when I'm trying to understand what is happening with a dog I consider gait videos, measurements, pictures (always at a stand, sometimes at a sit and down depending on what I'm looking for), information from the owner, my observations, and my hands (I'm a Canine Massage Therapist in addition to being a CPCFT). The information I gather from ALL of these methods is packaged together when I have concerns with a dog's gait and am referring the dog to a vet for diagnosis and treatment. Gait analysis can provide a starting point, but it's not the whole picture. Work with a vet or CCRP who can put the whole picture together for you – don't just rely on a Facebook group.
I hope this helps. Once you've put together one good gait analysis video, the following ones are easy.
Tara Monahan OCT CPCFT SCMT