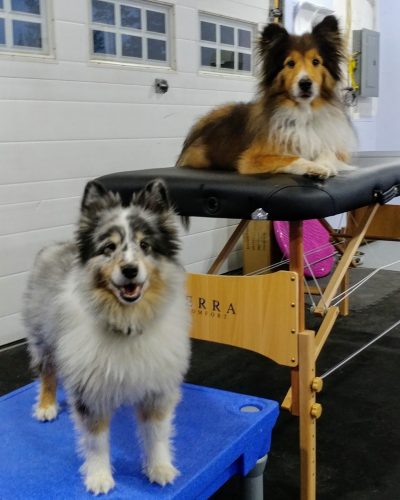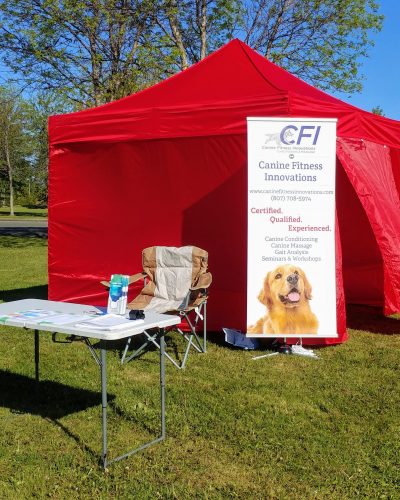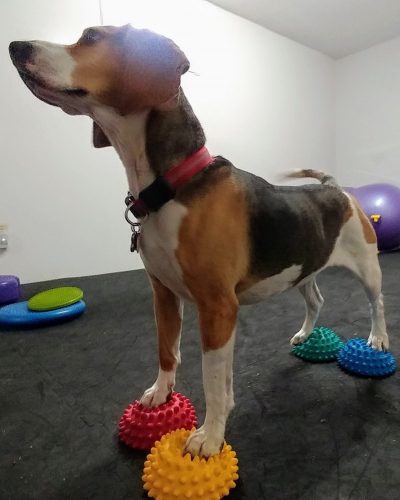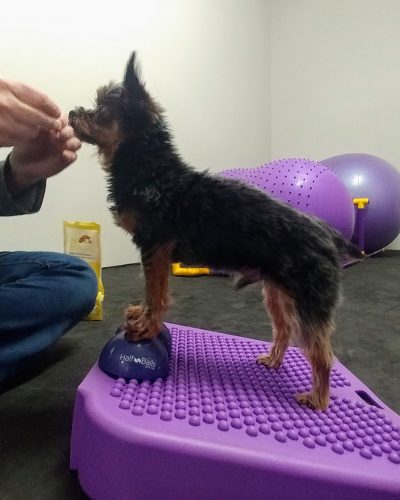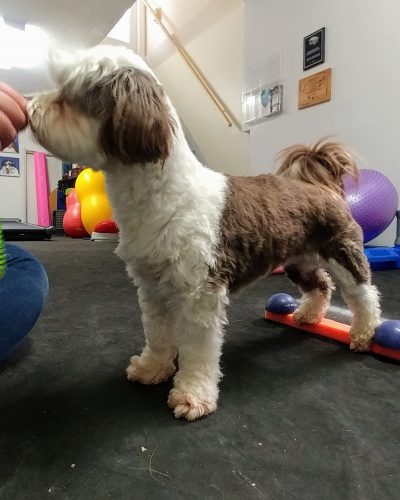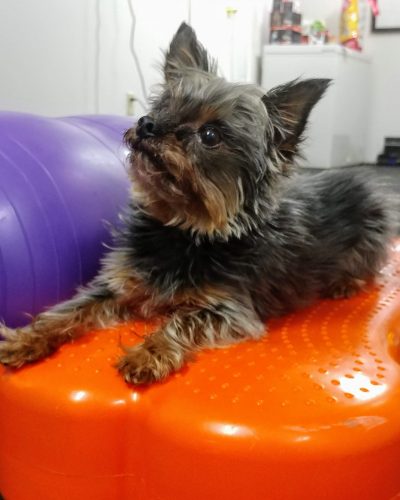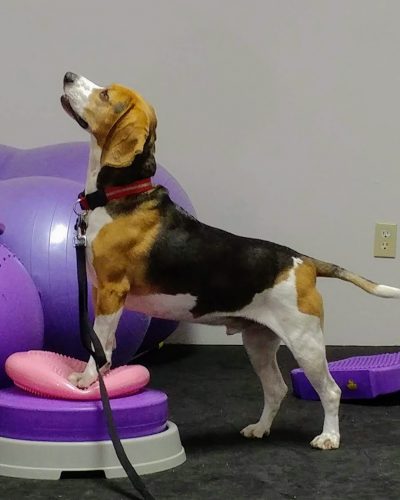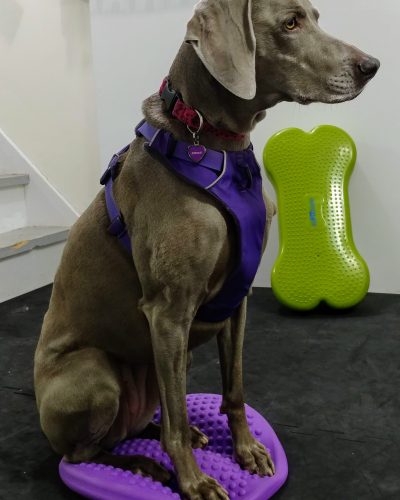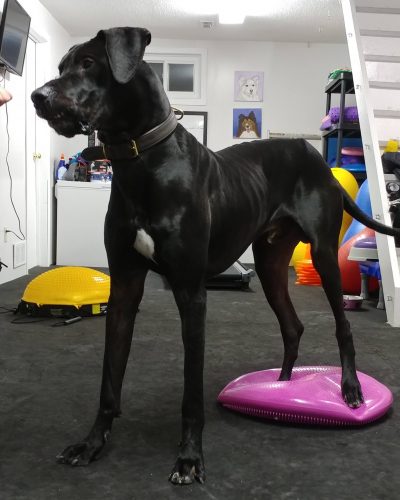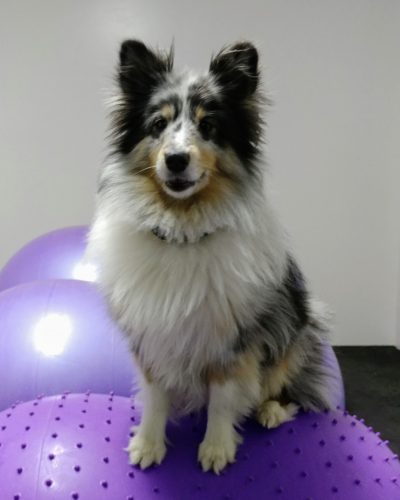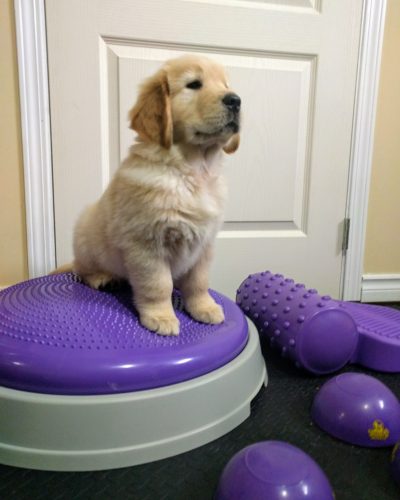 Tara Monahan
Certified Professional Canine Fitness Trainer
Senior Canine Massage Therapist
Certified Canine Kinesiology Tape Practitioner
Do you have a senior dog with mobility issues? A canine athlete that you need to keep in the best shape possible? A puppy that you have big dreams for?
Canine Fitness Innovations is a multi-service facility located just outside Thunder Bay, ON. I work with all sizes and breeds of dogs. Through conditioning and massage I can improve your dog's strength, balance, proprioception, and flexibility, with the goal of reestablishing or enhancing their mobility, health and performance. Canine Fitness Innovations offers traditional massage, trigger point massage, kinesio taping, professional conditioning guidance, gait assessments, breeder programs, and a wide range of workshops and seminars. For more information, please see our "Services" and our "About Us" page.
In Our Clients' Words
Kathryn & Ari
Tara is great to work with. She has so much knowledge and is willing to share. Our dog Ari had a back injury with some long term impact. The canine conditioning with Tara has really improved his posture, strength and coordination. She is also great about helping you work with the equipment and resources that you have. Her enthusiasm is contagious and I highly recommend her services for canine conditioning!

Rumble & Stephanie
Tara is an amazing trainer who always goes the extra mile to personalize each dog's session and meet their unique needs. My dog is a handful – easily overexcited, almost frantic around treats, and started out absolutely HATING to lie still long enough to be stretched. Tara approaches each session with him with humour and creativity, helping me to problem solve ways to help him focus and work. She helped him to improve his fitness and his body awareness last winter, and he is looking great!

Katie & the Goldens
Tara is fantastic!! She worked with me and my litter of Golden Retrievers from the age of 2 – 8 weeks old. The confidence and core strength of these puppies was amazing and they loved every session. I was thrilled with the results and so were my very happy puppy owners! I highly recommend this to anyone with a litter that plans to do any type of performance and/or conformation later in their lives!

Jen & Brandi
Canine Conditioning
We brought our dog to Tara for an assessment to determine if there was anything that we could do to improve her core strength and prevent future injuries. Our dog practices and competes in agility regularly. She has had some issues with her sacroiliac joints and she didn't extend her shoulders properly, which meant that her gait was significantly off. She will consult with your chiropractor and veterinarian. Our dog loves working with Tara. We've learned many fun exercises and stretches that have helped significantly. Tara is very observant and carefully analyzes before and after videos and pictures to determine what each dog needs and to monitor their progress. She patiently teaches the owners how to properly execute the required exercises. All of the information regarding your dog's measurements, pictures and videos and comments are put onto a private webpage for you to review. The homework that has been provided is also put here in case you need a reminder of what you need to do for with dog. If possible, she often lends the necessary equipment to help you achieve your dog's goals. Tara is very professional and her suggestions are very effective. It's a great way to bond with your dog too!

Ruth & Odin
Canine Conditioning
Odin is a four legged Sheltie with the use of three of his legs.  He has been bewitched by Tara since he first started attending her classes shortly after his accident in 2013. Odin loved going to school.  He loved the challenge of agility and found conditioning intriguing.  He was more than eager to to follow wherever Tara led him.
Tara puts a great deal of effort and time into getting to know both your dog and you.  She treats ( yes cookie treats too and apparently the best cookie treats) every dog individually. I haven't seen a dog yet that hasn't fallen in love with her.  Dog owners value her knowledge and her expert guidance as well as her winning personality.
I think that is the Massage Therapist you need for your dog (probably for yourself also). Your dog will be eager and excited to see Tara, which will allow her to perform her magic massage.

Barb & Cheers
Prenatal Conditioning
Tara did prenatal work with my dog Cheers before she had her puppies. Through exercises and stretches she made sure that Cheers was in great condition and comfortable all through her pregnancy. Tara worked with Cheers in her studio, which Cheers loved, and I was able to follow up at home. Cheers had seven healthy pups and was back to her original condition very quickly. Thanks, Tara!

Sandra & Jax
Canine Conditioning
I had an amazing experience with Tara when I took Jax to her conditioning courses.  The positive environment, personality and encouragement shown to myself and Jax, is an experience I will never forget.  Jax absolutely loved Tara and was comfortable with her from the first session. The concepts used in conditioning were very interesting and were successful in helping Jax gain balance and coordination.  All these tasks assisted me in helping Jax become more confident as well. Wonderful experience!

Debbie & Gizmo
Canine Conditioning
I first brought my 10 ½ yr old shiatsu/bichon, Gizmo, to Tara for Canine Conditioning in May this year (2018). This was after a seminar that she had hosted. Tara assessed his gait and current physical structure. She recommended seeing a dog chiropractor and her program of conditioning exercises.  This demonstrates her professionalism in recommending the help of others to ensure the best for our pet. I have followed her advice and am ecstatic with results.  Following a strict routine with Gizmo, he is much more physically healthy and fit. We just competed in our local NADAC Agility Trial. Gizmo placed first in his jumpers run.  A great end to his competitive career.
Gizmo still loves agility.  I am thrilled to know this.  He no longer wants to be competitive but still loves it.  I am thrilled and cannot say enough about how Tara has helped Gizmo. I am so grateful to know Tara and to have her monitoring Gizmo's physical well being.  Not to mention, that I think he loves her.
Interested in private canine conditioning sessions?
We offer a range of individual training, and package options.