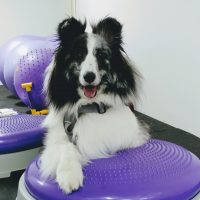 Ruth & Odin
Canine Conditioning
Odin is a four legged Sheltie with the use of three of his legs.  He has been bewitched by Tara since he first started attending her classes shortly after his accident in 2013. Odin loved going to school.  He loved the challenge of agility and found conditioning intriguing.  He was more than eager to to follow wherever Tara led him.
Tara puts a great deal of effort and time into getting to know both your dog and you.  She treats ( yes cookie treats too and apparently the best cookie treats) every dog individually. I haven't seen a dog yet that hasn't fallen in love with her.  Dog owners value her knowledge and her expert guidance as well as her winning personality.
I think that is the Massage Therapist you need for your dog (probably for yourself also). Your dog will be eager and excited to see Tara, which will allow her to perform her magic massage.