Canine Structure and Movement
May 6-7, 2023
Thunder Bay, ON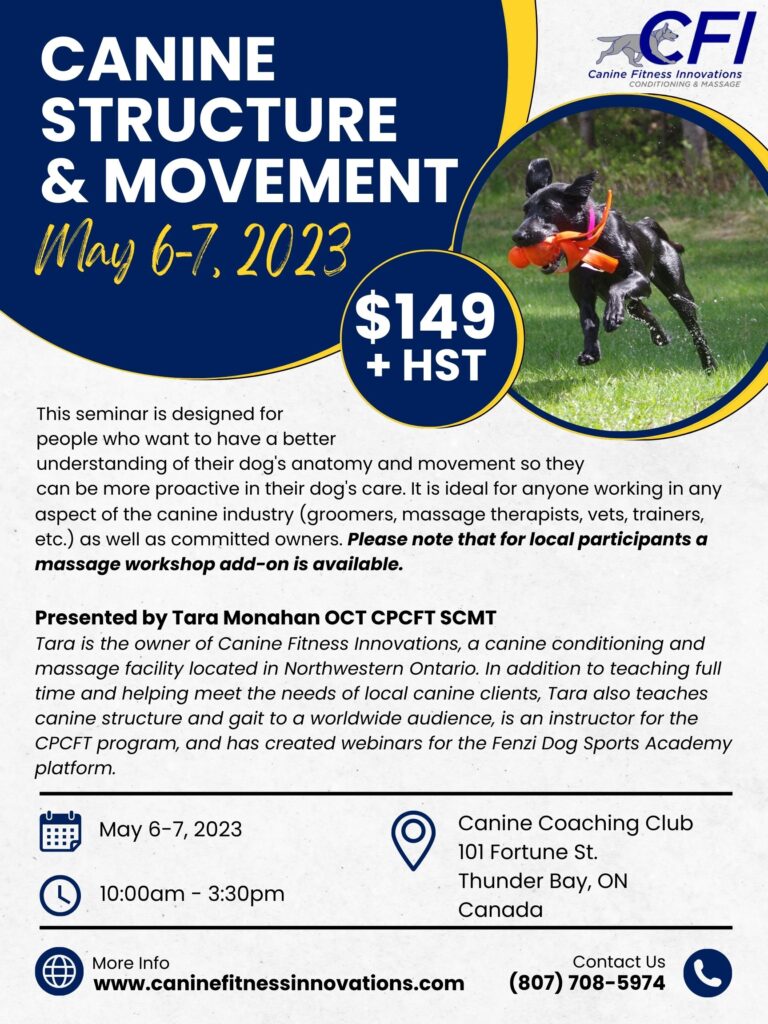 How well do you know your dog?
If there was one course or seminar I wish all people who worked with dogs would take…this would be it. This course is designed to provide you with the knowledge and skills needed to positively impact your dog's quality of life throughout their entire life. It will help you recognize early signs of discomfort, as well as compensations or adaptations which may have been taking place for years. It will help you make better choices, and be a stronger advocate on behalf of your dog. If you are working in an aspect of the canine industry, whether as a trainer, groomer, vet, etc., understanding structure and gait can help you become a better resource for your clients. In this seminar we will be focusing on:
How to evaluate structure.
How to recognize early signs of discomfort.
How to recognize gait anomalies "on they fly".
How to evaluate the effectiveness of a conditioning routine.
How to be proactive with your dog's care.
Working Spots
All participants are welcome to bring a dog (or two), as long as the dog is comfortable and happy in a seminar environment, and doesn't mind being touched by people other than their owner.
Timeline
Please note that the seminar runs from 10:00am to 3:30pm both days, and there is no formal lunchbreak. Participants are welcome and encouraged to bring their lunch or snacks to munch on during the seminar.
For local participants, there is an optional massage workshop add on. This workshop will teach you how to assess your dog's range of motion and some foundation massage techniques. This workshop is only being offered to seminar participants.